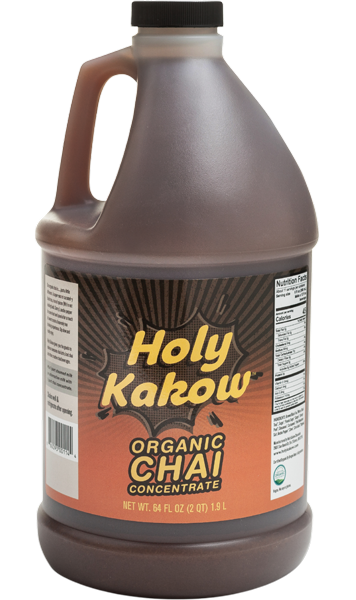 An Unromantic Story of Awesome Chai
Look, we would love to be able to tell you that Holy Kakow Chai is an ancient family recipe passed down from generation to generation. We would be ecstatic to share our "ah-hah!" moment when traveling mystical lands throughout Asia and sipping our 1st taste of this warmed, spicy beverage. Yes, it would be super cool to tell you exotic tales of our relentless pursuits for chai perfection. But Mama said that it's not nice to tell lies.
We just love chai. Love it soooo much that we just had to make our own. That's it. This is our chai story. And we hope that you taste our chai and think that it tastes so awesome that you make up a fun story of your own.
Available in 64oz Jug:
Chock-full of Spice and Nice
Our Organic Chai is……just a little different. A super-secret caramel-y black tea, a ton of spices (We're not holding back.), ancho pepper for some heat and panela for a touch of sweet create a heavenly tea drinking experience. Sip slowly and really enjoy.
2 to 1
Holy Kakow recommends mixing 2 parts Organic Chai Concentrate with 1 part milk or milk alternative for optimal consumption. Ultimately though, your portioning is your prerogative. Go crazy.
Ready to Elevate Your Products?
Holy Kakow makes it super easy to get setup with a wholesale account. Call us, Email Us, Or submit a wholesale inquiry from our wholesale page. It doesn't matter which route you choose, just contact us now and we will assist in getting you set up with your first order. Looking forward to hearing from you!