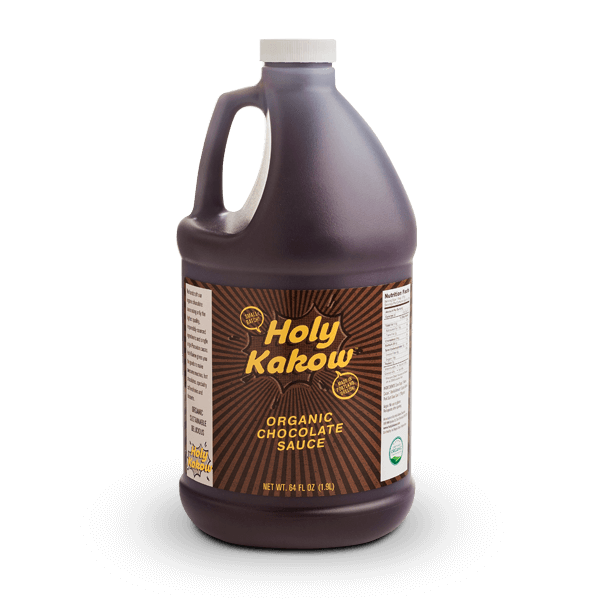 It's All in the Ingredients
When you're making the best organic chocolate sauce that money can buy you can't just mix together inferior ingredients. Heck, you can't mix up good ingredients and expect a fine chocolate.
Holy Kakow uses only the finest, responsibly sourced ingredients; the chocolate sauce says it all. Heirloom Peruvian organic cacao and organic cacao butter, Colombian sugar dark with molasses, Himalayan pink salt are a few key ingredients that elevate Holy Kakow to heavenly chocolate heights.
Available in 64oz Jug:
Chocolate Sauce
Mexican-Style Chocolate Sauce (a lil' spicy)
Agave Syrup (Sweetener)
Heirloom Single-Origin Cacao
Our Peruvian cacao was selected for the unique flavor notes detected within rare Criollo cacao beans. Inherent cherry and nutty almond flavors take over. Heirloom cacao beans from a single source are definitely the secret to this chocolate sauce.
Colombian Sugar
All organic sugar is not created equal. Holy Kakow hand selects this Colombian sugar rich in molasses and dark in color. The result is not simply sweet, but full-bodied.
Endless Possibilities
The best mochas can only be created using the best organic chocolate sauce in the world. Holy Kakow organic chocolate sauce was born to make mochas great. A dark chocolate sauce with bright, fruity flavor notes pairs well with a wide variety of espresso flavor profiles.
Mochas, hot chocolates, chocolate shakes, smoothies, waffles, affogatos, ice cream and so much more. Holy Kakow organic chocolate sauce is the quality choice for chocolaty deliciousness.
Ready to Elevate Your Products?
Holy Kakow makes it super easy to get setup with a wholesale account. Call us, Email Us, Or submit a wholesale inquiry from our wholesale page. It doesn't matter which route you choose, just contact us now and we will assist in getting you set up with your first order. Looking forward to hearing from you!