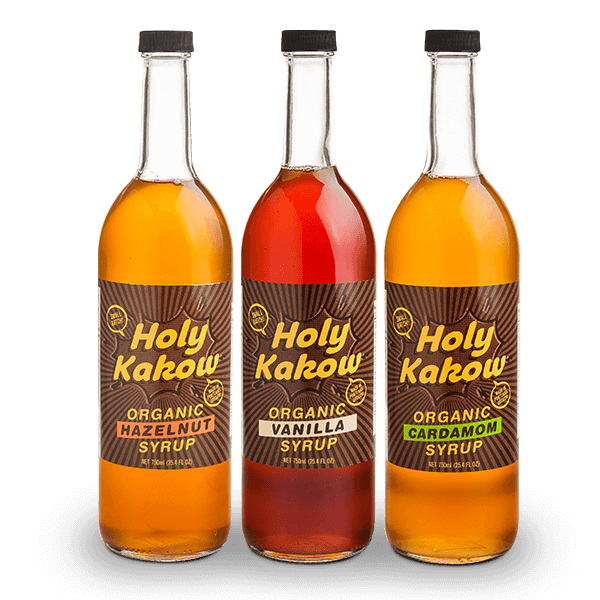 Fantastic espresso and milk deserves to be paired with handcrafted organic coffee syrups. A flavored latte where each and every ingredient has been meticulously sourced informs the customer's taste buds. They know that you don't cut corners. They understand that you serve a product with integrity for the community.
Available in 750ml Bottle:
Vanilla
Hazelnut
Caramel
Pistachio

Simple (Sweetener)

Panela (Sweetener) 
Cardamom
Lavender
Ginger
Rose 
Orange 
Raspberry
Blackberry
Cherry
Lemon
Coconut
Macadamia
Pecan
Cinnamon
Almond
Merry Mint (Year-round!)
Pumpkin Spice (Year-round!)
Real-Food Ingredients
Holy Kakow uses extracts made from real foods to impart genuine, long-lasting flavors that create an unforgettable beverage experience. Himalayan salt and organic citric acid from lemons are used to maintain freshness and heighten flavor.
Colombian Sugar
All organic sugar is not created equal. Holy Kakow hand selects this Colombian sugar rich in molasses and dark in color. The result is not simply sweet, but full-bodied.
Classic Flavors That Are Anything But Boring
Lattes, cocktails and shakes, ohh my! The options are only limited by your imagination. If you are looking for the best organic coffee syrups with strong, authentic flavors then Holy Kakow has got your number.
We've got your staples like Vanilla, Hazelnut, Caramel. Holy Kakow is also cooking up some unique varieties to stoke your creative latte skills. Cardamom, Lavender, Ginger, and Panela syrup are just a few organic coffee syrups that are sure to leave your customers impressed and coming back for more.
Ready to Elevate Your Products?
Holy Kakow makes it super easy to get setup with a wholesale account. Call us, Email Us, Or submit a wholesale inquiry from our wholesale page. It doesn't matter which route you choose, just contact us now and we will assist in getting you set up with your first order. Looking forward to hearing from you!