Wholesale Organic Chocolate Sauces & Coffee Syrups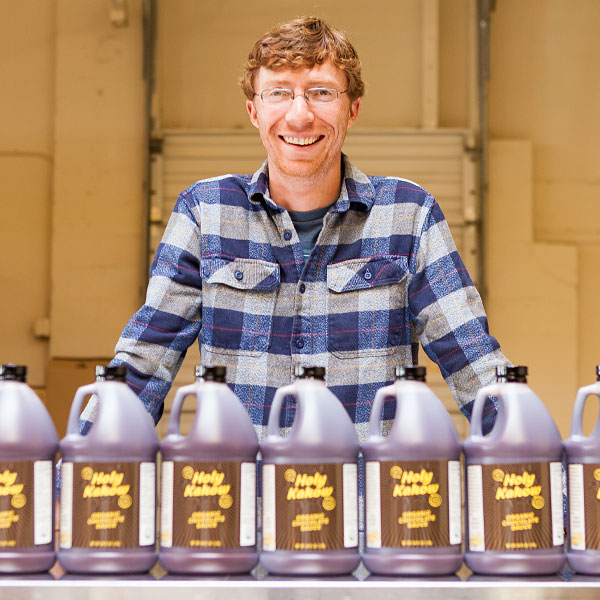 Not Your Average Wholesale Organic Chocolate Sauce
"This cafe serves the most delicious espresso I've ever tasted, but their mocha is kinda gross." This is what Wyatt Woods, owner of Holy Kakow was thinking one day while visiting one of his favorite Portland coffee shops.
Simply stated, there were no options for cafe owners to purchase chocolate sauces or latte syrups that complemented their fantastic coffee and espresso drinks.
Holy Kakow organic chocolate sauce is not just another chocolate sauce to choose from among a handful of boring old options. Holy Kakow is the ONLY chocolate that deserves to be paired with with your espresso in order to make magical mochas.
We are always on the hunt for the best tasting, highest quality, responsibly-sourced ingredients to ensure that Holy Kakow continues to craft the best chocolate sauce for coffee shops.
The Holy Kakow Wholesale Difference
Old School Approach – Here at Holy Kakow we take pride in providing our customers with over-the-top customer service. You work directly with us or with a regional distributor who can also provide a hands-on approach to to your customer service and delivery needs.
Accessible – Call us. Seriously, go ahead and give us a ring. Real people actually pickup the phone and take care of you. We'll take your call right now. If we don't answer then leave a message and we'll probably call you back within the hour. Isn't that refreshing? Are you a little shy and prefer to email us? Don't worry, we respond to your emails ASAP and usually the same day. We don't want to leave you hanging.
Flexible – Holy Kakow wants to work with you. Would you like a mixed case of syrup flavors? No problem. Would you like us to ship a standing order to your vacation home every 3 weeks? Absolutely! We can do that (but we would appreciate an invite sometime). Brass tacks: We would like to have your business and will work with you to accommodate your needs.
Our Wholesale Products
Organic Chocolate Sauces and organic latte syrups are the perfect marriage to meticulously sourced, artfully roasted, and perfectly prepared espresso drinks. Your espresso deserves the best, and your customers will appreciate your decision to choose quality and not overlook the details.
Organic Chocolate Sauce
The best mocha or hot chocolate can only be crafted using the best organic chocolate sauce. We like to say that our chocolate is "barista-friendly". Holy Kakow organic chocolate sauce is a little thinner than alternatives so that it mixes better when hit with espresso and immerses more easily in cold beverages for a more consistent drink. Available in 64 oz jugs.
Organic Coffee Syrup
Flavored syrups have a bad reputation. Trust us, we get it. Holy Kakow has crafted organic syrups that deserve your respect and will certainly grab your customer's attention and taste buds. Make a better vanilla latte, lavender lemonade or house-made ginger ale. Available in 750ml bottles.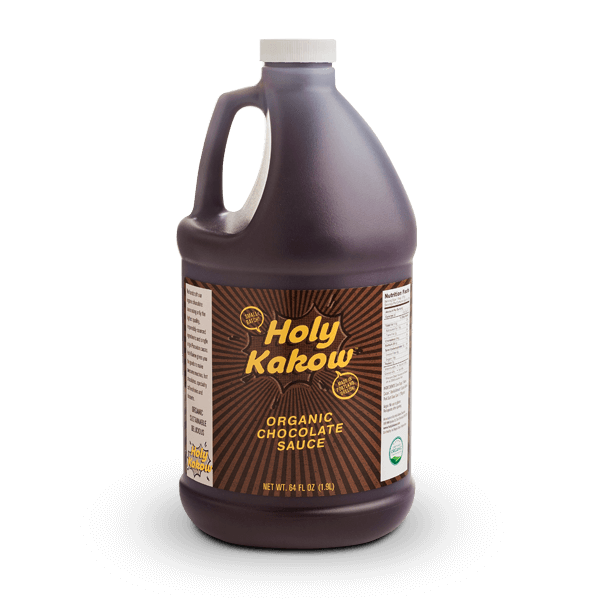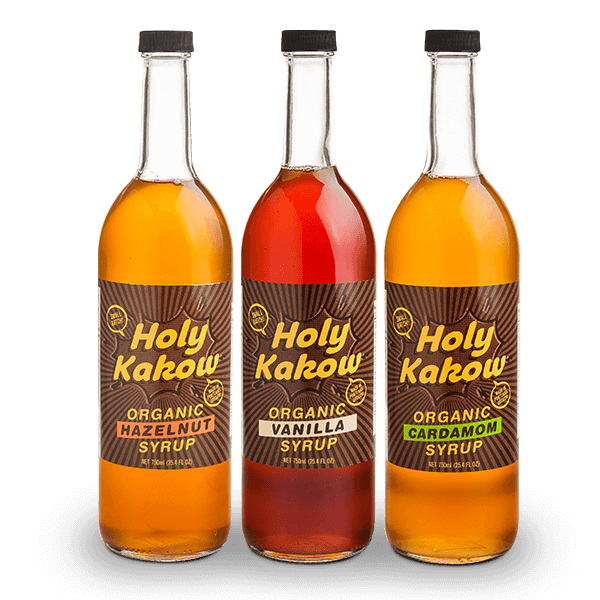 Are you ready to place a wholesale order for organic chocolate sauce? Curious to test some samples with your espresso? Or do you have a few questions prior to getting setup with a Holy Kakow Wholesale account?
The Holy Kakow team is super friendly and hyper responsive to your needs. Please get in touch. We would love to begin working together and provide you with the best organic chocolate sauces and latte syrups for your business and your customers.