Organic Chocolate Sauce Sweetened with Agave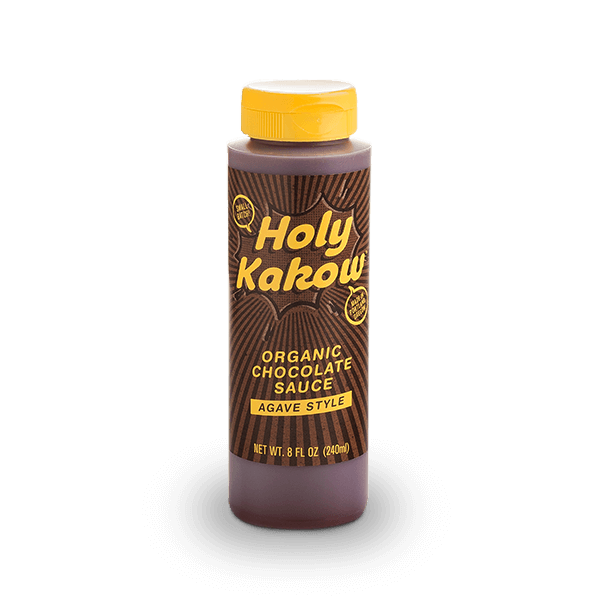 Simple Ingredients for a Delicious Taste
People talk about chocolate being a healthy food, but what they really mean is that cacao is a healthy food. Holy Kakow believes that the other ingredients in chocolate should be healthy too.
Our organic chocolate sauce is sweetened with agave nectar for a richer taste and low glycemic impact. We mix in Cacao Butter, Vanilla extract and ancient Himalayan pink salt for added mineral and nutrient benefits. We don't skimp on high quality ingredients, and you can taste it. The proof is in the pudding (or in this case the sauce).
Available in 8oz bottle.
Peruvian Cacao
Our Peruvian cacao was selected for the unique flavor notes detected within rare Criollo cacao beans. Inherent cherry and nutty almond take over. Heirloom cacao beans from a single source are definitely the secret to this chocolate sauce.
Organic Agave Nectar
Agave nectar is a great, low-glycemic alternative for people with sugar sensitivities or with an active lifestyle seeking sugars with a slow-burn to get through their workout.
Organic Vanilla Extract
Vanilla can have a wide range of flavors. Our bourbon vanilla is both floral and buttery at the same time. The true complement to chocolate.
Your Everyday Chocolate Sauce
Chocolate sauce is ice cream's best friend and the foundation for hot chocolate and cold chocolate milk. But our organic chocolate sauce sweetened with agave can top just about anything. Pancakes and Waffles? Duh. Oatmeal, toast, yogurt, coffee? Umm, breakfast time is chocolate time, of course! Evening cocktails? Yes, you can go all day and night. Spoonfuls of peanut butter right out of the jar drizzled in chocolate? Go ahead, everyone is asleep and nobody is looking. Holy Kakow has made a chocolate sauce for every day.
Ready to Elevate Your Products?
Holy Kakow makes it super easy to get setup with a wholesale account. Give us a call.  Shoot us an email.  Or simply submit a wholesale inquiry from our wholesale page. It doesn't matter which route you choose. Just contact us now and we will assist in getting you set up with your first order. Looking forward to hearing from you!