Meet Our Chocolate Sauce Maker & Founder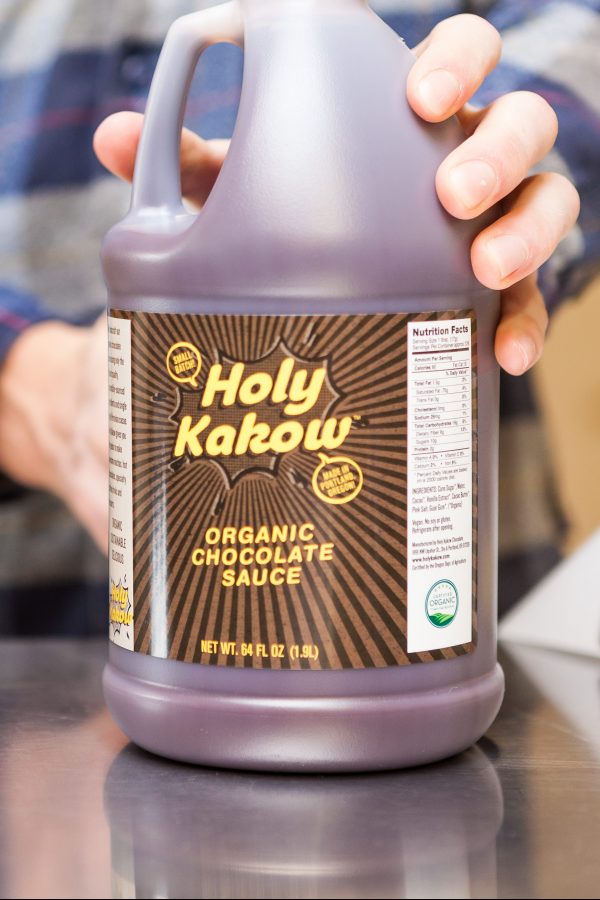 Explore Our Products
Holy Kakow is the premium coffee shop supplier of organic chocolate sauces and coffee syrups.
We would love to talk about your business and see how Holy Kakow can help out. So give us a call and let's talk about a relationship.
Our Origin Story – From Wandering Waiter to Chocolate Sauce Maker
"Can I tell you about tonight's special?" This was a nightly routine for Wyatt Woods. He would wait tables at night, save up his earnings, and take off for a few months each year to work on organic farms, climb mountains or explore rural communities abroad within developing countries.
Wyatt knew that he wanted to start a business that had a positive impact in the world, and he had heard that coffee farmers were increasingly making a better living when working with progressive coffee roasters. So he began roasting his own coffee. He then became more and more obsessed with starting a coffee business.
One day he decided to fly to Guatemala to travel throughout Central America in search of fantastic coffee and the hopes of nurturing new relationships with farmers so that he could begin importing green coffee directly and building a coffee roasting company. Along the way he landed on a cacao farm, the light bulb turned on, and a few months later he created a truly delicious chocolate sauce that coffee businesses could use to create premium mochas and hot chocolates for their customers.
What Makes Us Shine
We do a lot with a little. Seriously, we make this stuff nearly every day and you wouldn't believe how many people work here (not that many). At the end of the day we look back and say, "wow, we did all of that?"
Holy Kakow is a small team of folks working hard to create delicious organic chocolate sauces and coffee syrups while providing customers with top-notch customer service. The Holy Kakow team does it all. Making small batches each day, bottling by hand, setting up orders, and addressing customers questions and requests.
We're invested in our work and our customers' success. Our small business understands your business's needs.